Using Wood in Design to save the Forests
By Bob Johnson from the Tropical Forest Foundation
When it comes to building sustainable, healthy spaces, leading industry organizations, such as the American Society of Interior Designers (ASID) and the International Interior Design Association (IIDA), all consider the minimization or elimination of negative environmental impacts to be integral to the design process. However, true sustainability goes beyond the specification of eco-friendly products, and extends through the supply chain to the source of the material. An example of the importance of understanding where and how interior products are made can be found in the use of tropical and non-tropical wood.
Many designers believe that avoiding the use of wood can save the rainforest, but the truth is that tropical wood can be one of the most sustainable products on the market today. Using woods from well-managed sources can reduce wood waste; improve labor efficiency and output; give indigenous people the ability to build schools, hospitals, and roads; and protect the biodiversity of the forest—but only when the source of the wood is a reputable one.
Standing forests are best conserved when they have economic value. The most common reason behind the destruction of the forest is the conversion of land to something (assumed to be) more profitable. For example, forests in Indonesia are currently being burned in order to make room for the production of palm oil, which is in high demand. However, that same forest could instead be harvested for timber and nuts using sustainable forestry practices that would preserve waterways, reduce the impact of logging, and sequester carbon, all while still making money.
Interior designers can make a real impact by specifying or purchasing wood from producers whom they have verified operate legally and are adopting sustainable forestry practices. Designers can specify non-traditional hardwoods to increase forest timber demand, which turn increases the value of the forest, keeping it from further destruction.
The two most important steps in sustainably specifying tropical hardwoods are to become knowledgeable about the international supply chain and to find a responsible supplier.
–
Interwood's stance on Sustainability
Being part of an industry that is solely dependent on wood as its precious resource, it would be inconceivable for us not to advocate and support the protection and responsible management of the world's forests in any way possible.
It is our conviction and duty to individually as well as professionally assume responsibility in this field. Individually, we cannot stand idly by and see the planet's natural renewable resource to be exploited on a scale that would ultimately come back to haunt us and future generations. Professionally, we need sustainable management of forests to ensure the regeneration of our valued resource.
With unique veneers of exceptional quality being the focus of our main product, we are always doing our best to utilize a tree to its fullest extent by select harvesting only mature trees and manufacturing them into the best possible yield process – veneering. We firmly respect our product and the resources behind it and are genuinely excited by the incredible beauty and variety which wood has to offer. By belonging to numerous organizations, we make an effort to support and contribute to the preservation and sustainability to the world's most beautiful, precious and renewable resource.
Sincerely,
Rick Banas, VP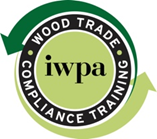 This badge shows we've completed the wood trade Compliance Training and Due Diligence Tools course in High Point. This course includes a comprehensive analysis of the requirements of the Lacey Act and other laws relevant to trade in wood products. This course was developed in partnership with the World Resources Institute and supported by the US Agency for International Development.
Interwood has been a member of the IWPA for many years. We've been featured in the quarterly magizine twice highlighting our involvment in the Burj Duabi as well as our sourcing to a fleet of private aircraft.